Submit Your Radio Station to iTunes Radio & Apple Music
How to submit your radio station to iTunes Radio & Apple Music to gain access to millions of Apple listeners and showcase your station.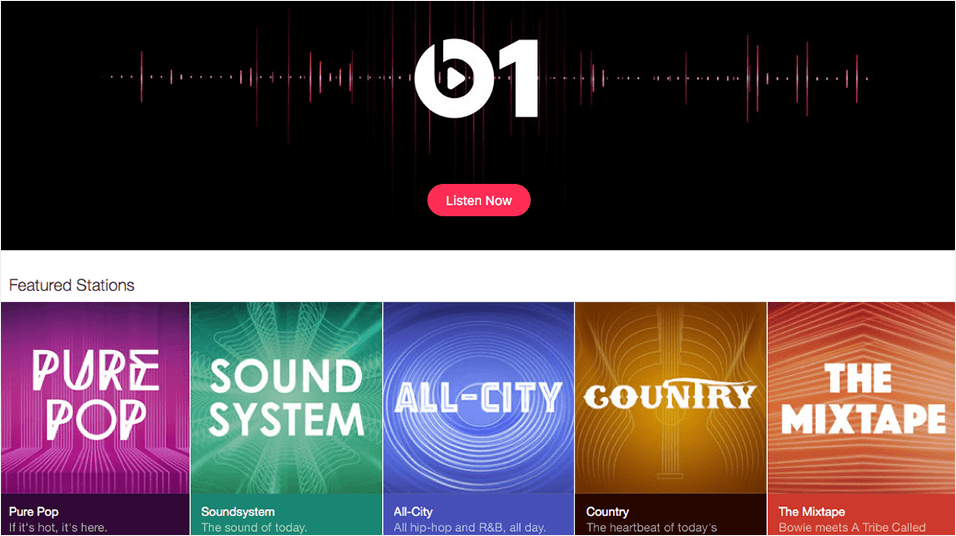 iTunes Radio is now apart of Apple Music, meaning that the millions of Apple Music subscribers who have access to iTunes Radio can also access every single station that's already listed and even tune into new ones that anyone can submit, which is why we're going to show you how to submit your radio station to iTunes Radio & Apple Music.
We'll show you what Apple requires for you to submit your station, guidelines that you need to follow, and how to get in touch with the team at iTunes Radio and Apple Music. Here's what you need to know to submit your radio station to the iTunes Internet Radio directory.
Update: Apple no longer accept submissions or modifications - more info here.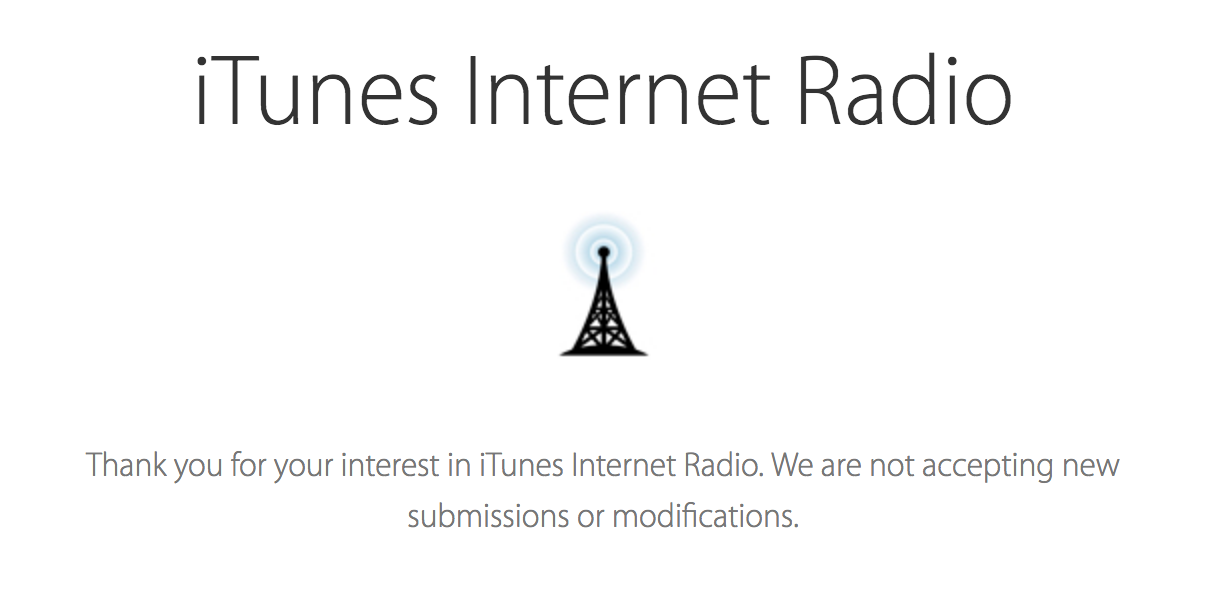 Submit Your Radio Station to iTunes Radio & Apple Music
You need a couple of things before you can submit your radio station to Apple as they have a somewhat strict process, however, if you follow these guidelines then it's a pretty easy and a straightforward procedure that only takes a couple of minutes.
Here's what you will need:
Stream URL
Your stream type either needs to be:
Your stream format needs to be either:
The standard stream rate should be 128kbps or higher - All Radio.co streams are MP3/AAC at 128kbps.
Station Logo
Your radio station logo should be a square image of 1400 x 1400 pixels in either JPG or PNG format.
Apple ID / iTunes Store Account (Optional)
Your login account info isn't required, but it helps - If you haven't already got one then you can download iTunes and create one.
Spreadsheet
You will need to fill out a spreadsheet with all your station's information - Download the spreadsheet here.
Submission Guidelines
Your radio station's details need to be accurate and follow these guidelines, so open up your spreadsheet and let's begin!
Name
NQR.FM
The exact name of your radio station, for example capitalisation, spacing, and even symbols that are not exact will result in your station being rejected, so make sure it's accurate.
Genre
Pop
Choose from one of Apple's suggested genres:
70s Retro
80s Flashback
90s Hits
Adult Contemporary
Alternative Rock
Ambient
Blues
Classic Rock
Classical
College/University
Comedy
Eclectic
Electronica
Golden Oldies
Hard Rock
Metal
Hip Hop / Rap
International / World
Jazz
News / Talk Radio
Reggae / Island
Religious
RnB / Soul
Sports Radio
Top 40 / Pop
If your genre isn't listed then choose one that you think represents your station.
City/State
Manchester
Your radio station's city or state.
Country
GB
Your country, this needs to be two characters, however if you're unsure then check here.
Description
Manchester's Northern Quarter Online, Mobile, & DAB Station.
Your description needs to be accurate and have no spelling, capitalisation, grammar, punctuation, or spacing errors - Your station will be rejected if you have any of those errors and you will need to submit your radio station to iTunes Radio & Apple Music again, for instance based on the description above Apple will reject the this: "Manchesters northern quarter, ONLINE, Mobile, ad dab sTation".
Explicit
No
Does your station have explicit material or language? Either state Yes or No.
Frequency
23
This has to be 23.
Home Page
http://www.nqr.fm/
The full URL of your radio station's home page, beginning with either "http://" or "https://" - If you don't have one then use a social media link like Twitter: https://twitter.com/nqrfm
Approved
Yes
This has to be Yes.
Provider Contact Info
James Mulvany, info@nqr.fm
State your full name, email, phone number, and iTunes Store login account and email address - If you don't have a phone number, iTunes Store login, and email address then don't worry as they're not necessarily needed.
Status
Active
This has to be Active.
Strength
45
This has to be 45.
URL
http://streaming.radio.co/sced...
Your stream URL needs to be compatible with iTunes - Quickly test by selecting File in iTunes -> Open Stream -> then paste in your station's stream URL.
All Radio.co streams are compatible with iTunes Radio and Apple Music.
Language
English
The language options to select from is limited - Choose from:
English
French
German
Italian
Spanish
Commercial
No
Select either Yes or No depending on the type of station you operate.
Bandwidth Kbps
128
Your stream's bitrate in kbps which should be 128 or higher - Radio.co radio station streams are 128kbps by default.
Submit Your Radio Station to Apple
Once your radio station's information has been entered then save the spreadsheet and attach it to an email to Apple: itunesradio@apple.com
The subject should be "Station Submission: [Station Name]", in this instance it's "Station Submission: NQR.FM", then attach your station's logo which should be 1400 x 1400 pixels as mentioned earlier.
It can take anywhere between 5 - 10 business days for your station to get submitted, when it is you should get an email informing you that it's been accepted and will appear on iTunes Radio / Apple Music.
However if there are any problems with your station's submission then they will get in touch stating which requirements have not been met, which you will need to check, update, and resend to Apple.
Apple is a trademark of Apple Inc., registered in the U.S. and other countries. Apple Music is a service mark of Apple Inc.
Update Your Radio Station & General Enquiry
Get in touch with Apple to update an already existing radio station by emailing them with either of the following subjects:
Station Update: [station name, exactly as it appears in iTunes Radio / Apple Music]
Other Inquiry: [Briefly State Issue]
"Station Update" is a change on your radio station's submission and "Other Inquiry" is an issue or general enquiry regarding your station.
That's it! Everything you need to submit your radio station to iTunes Radio & Apple Music, but if you have any questions then let us know in the comments below or get in touch with us at radio.co/contact.
Note: This guide is for the iTunes Internet Radio directory - Submitting your station will not list it within Apple Music.