We're on the last little fundamental bits of setting up your Radio.co station now, and it's time to take a look at your Stations Settings. If you head to the Settings tab on your Dashboard menu, you'll see a lot of different tabs at the top of your screen and we're going to give you a quick rundown of each tab.
Profile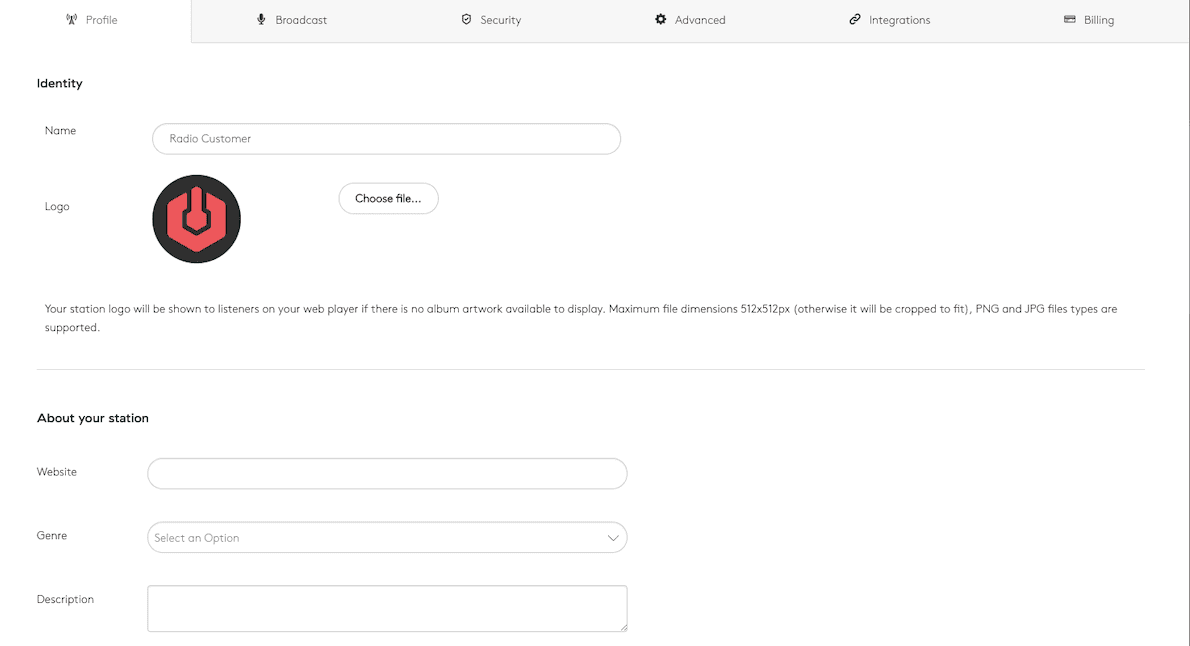 Station Name: Enter the name of your station exactly as you want it displayed.
Logo: Upload your stations artwork (512x512px MAX)
Website: If you have a website for your radio station fill it in here.
Genre: Select the genre of your station (what type of content you play).
Description: Write a brief description of your station and what it's all about.
Keywords: Include some keywords to apply to your station. Handy for submitting your station to directories.
Language: Select what language your station broadcasts in.
Timezone: This one is VERY important! Select your timezone as this affects how the schedule will display for you.
Country: Select what country your station is based in.
Broadcast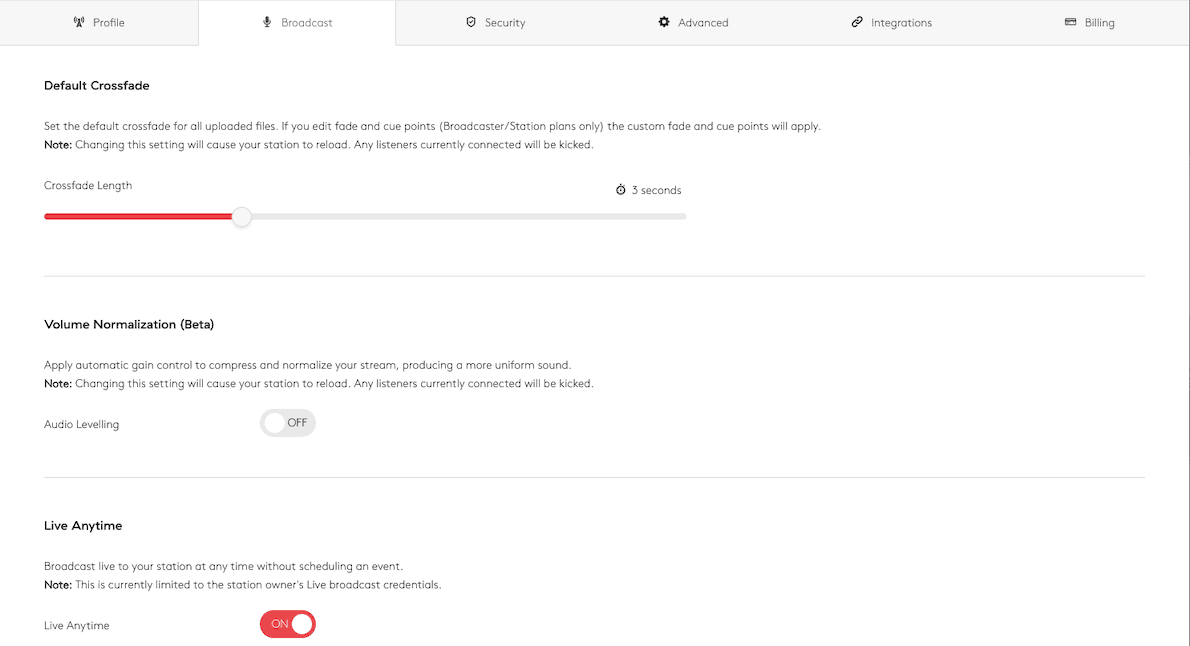 Default Crossfade: Adjust the fade time between songs, (We recommend between 2-5 secs).
Live Anytime: Turn this on to be able to broadcast live to your station without scheduling an event. Only the station admin is allowed to do this however. Additional DJ's cannot access this.
Audio Stream Quality: Adjust the format (MP3 or AAC) and Bitrate (16 - 192kbps, with 320kbps available on our Pro Plan) of your stream.
Mobile Streaming: Available on Bronze plan or above. Switch this on to enable a mobile streaming link that will adjust to be perfect for mobile streaming.
Security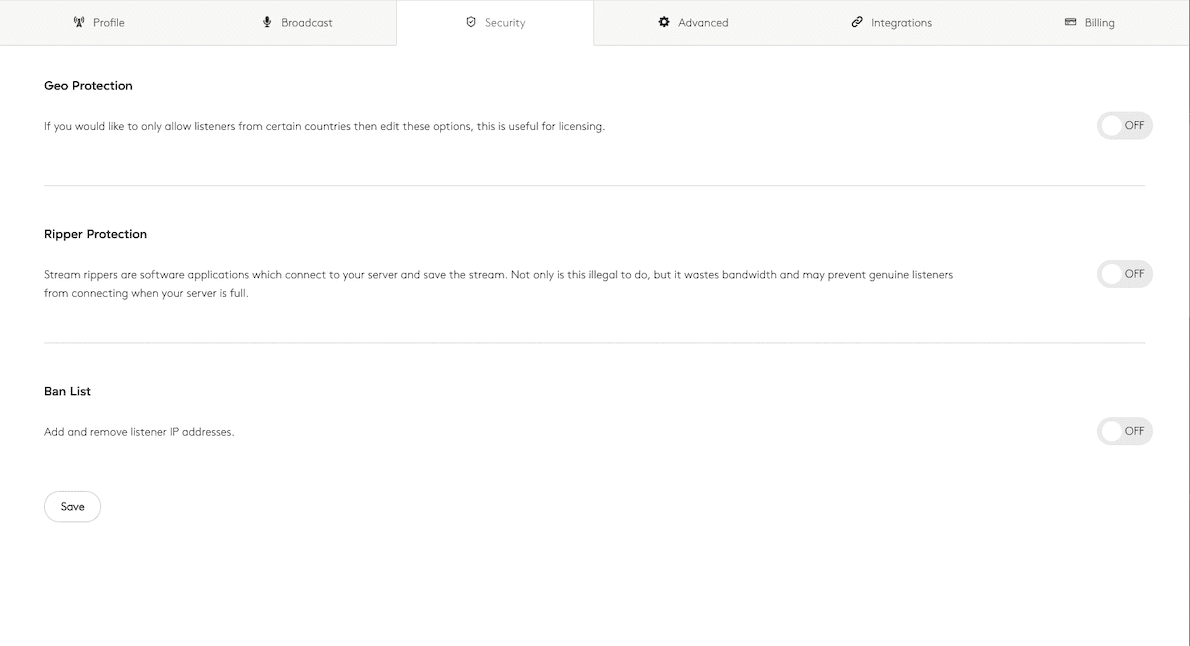 Geo Protection: Turn this on to only allow listeners from certain countries to listen. Useful for licensing purposes.
Ripper Protection: Turn this on to disable any stream rippers from accessing and saving your stations stream.
Ban List: Turn on to enable a banned IP list. This means you can ban certain IP addresses from accessing your station.
Advanced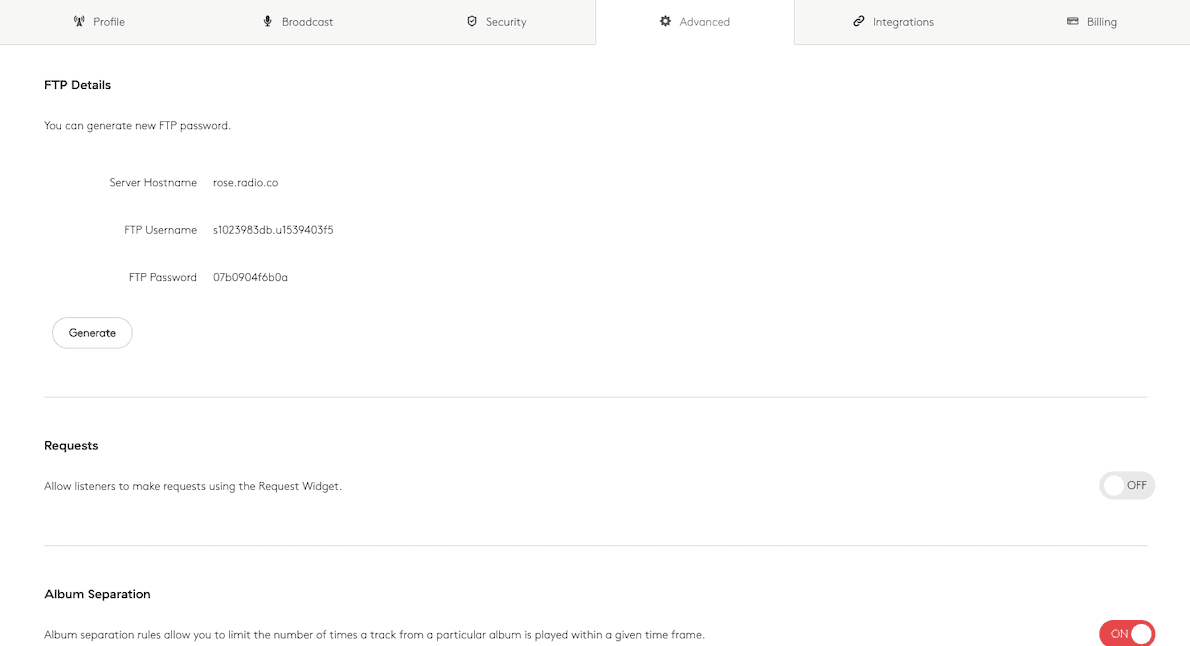 FTP Details: Use these to upload files in bulk to your station.
Requests: Enable requests to allow your listeners to make song requests via a request widget you can create and embed into your website.
Album Separation: Limit the number of times tracks from a certain album is played within a given time frame.
Artist Separation: Limit the number of times tracks by a particular artist are played within a given time frame.
Integrations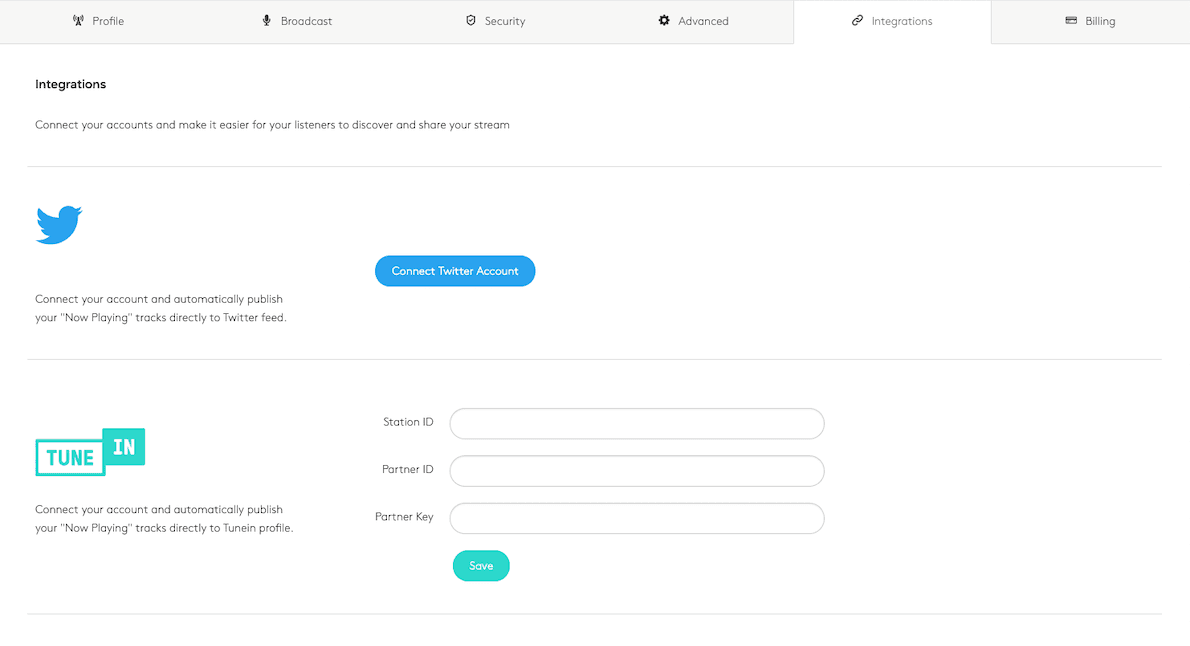 Twitter: Connect this up to your stations Twitter account to enable live 'Now Playing' updates on your Twitter.
TuneIn: Unfortunately this integration will not work unless your station is already on TuneIn as they have stopped accepting new radio stations.
MixCloud: Allows you to upload recorded live shows to MixCloud for on demand listening.
Billing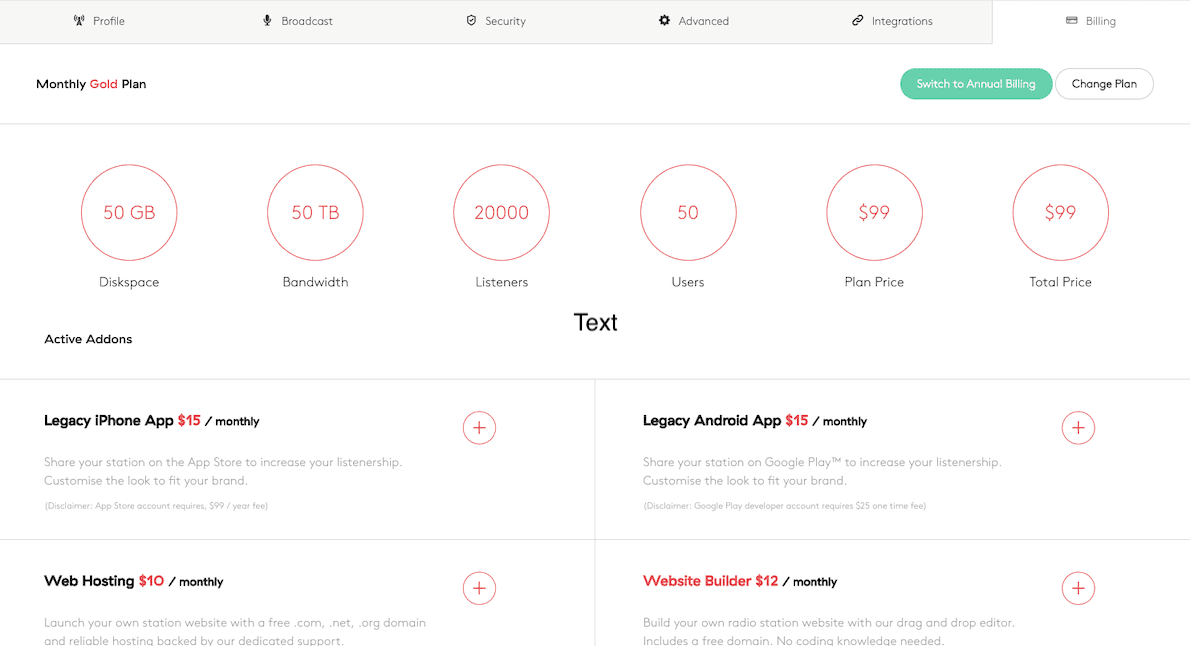 Current Plan Details: Here you'll see your current plan clearly displayed.
Switch to Annual Billing: If you are paying Monthly, you can click this button to switch to Annual Billing.
Change Plan: Easily upgrade or downgrade you plan using this button.
Update Billing Address: If your billing address has changed you can update that using this button.
Change Payment Method: You can change your current card or switch over to PayPal for upcoming payments.
Payment History: All your previous payments are detailed here including downloadable receipts and invoices.