5 Best Radio Websites (& Why They're Awesome)
Get inspired from these top 5 best radio websites and easily build your very own site in minutes with the help of Radio.co.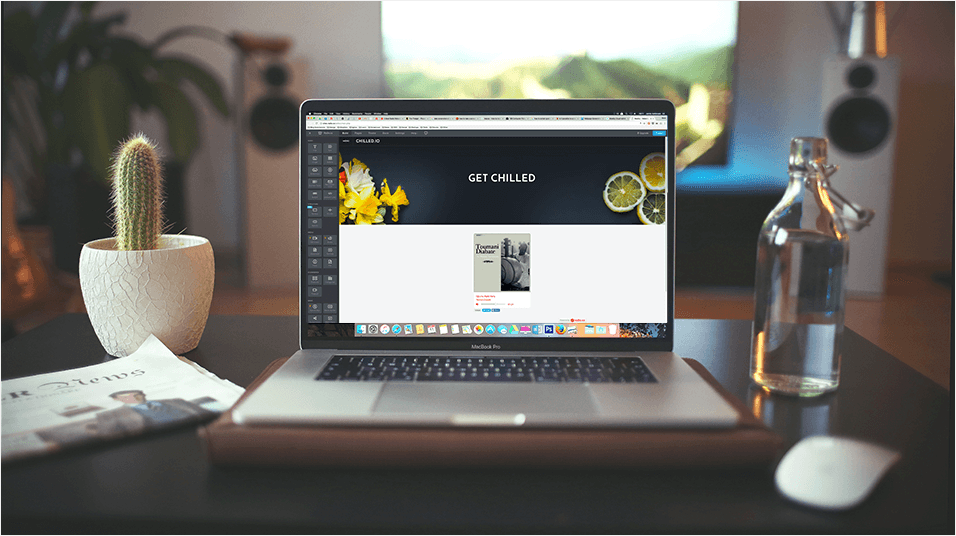 A website is the cornerstone of any radio station, without one you miss important opportunities to drive up growth and engage with your listeners. We've done some digging around and found 5 of the best radio websites built right here using the Radio.co Website Builder.

A website is the cornerstone of any radio station, without one you miss important opportunities to drive up growth and engage with your listeners. We've done some digging around and found 5 of the best radio websites built right here using the Radio.co Website Builder.
5 Best Radio Websites
Get inspired by using these sites as a stepping stone to give you some ideas to what you can achieve with your own radio station website.
5. Radio Sangam
For a lot of listeners, a radio station website is a source of information on local news, entertainment and upcoming events. In fact, it's the main reason most visitors stick around, so a site like Manchester-based Radio Sangam being jam packed with the latest news and gossip keeps listeners coming back.
Radio Sangam caters to a different market than you may expect coming from Manchester, being densely packed with news and events focused around Asian music and entertainment news, featuring all the latest goings on over in Bollywood. As such, the overall design complements the colourful aesthetic that Bollywood is known for, making the site very welcoming to all. The site is simple to navigate around, with everything being labelled clearly to make sure it's no hassle to get where you're going.
Listeners coming to your site sometimes need a nudge in the right direction to tune into your station. Players are embedded at the top of all pages so they're easy to access. There's even a podcast that you can check out as well!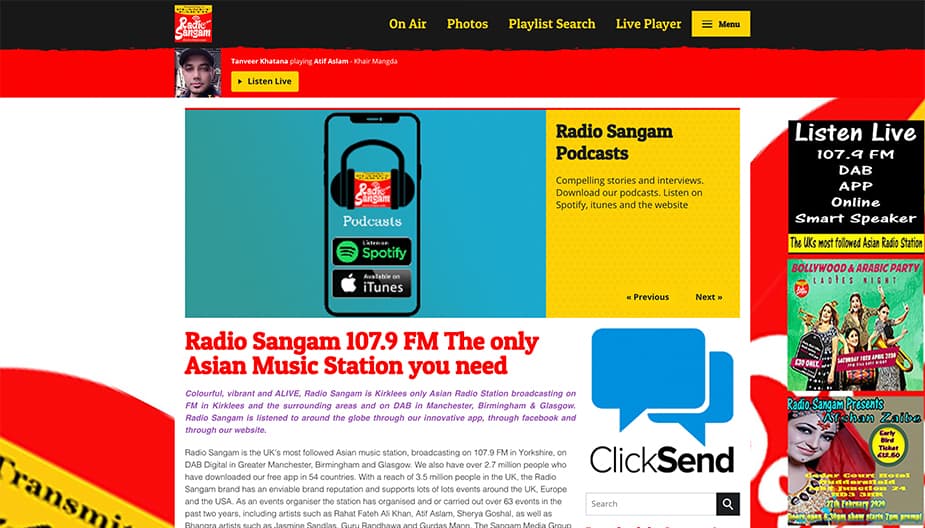 4. Samewave Radio
Sometimes, simplicity is key to designing a great website. No need to overload visitor's first impressions with too much going on, which is where Samewave Radio comes in! Going for something simple but visually pleasing, Samewave chooses to get straight to the point rather than bog you down in unnecessary clutter, resulting in quite a dark look, but one that suits the station's goals and aesthetics.
The best radio websites all have something in common, which is they are easy to view no matter what device you're using. Every website created with the Radio.co Website Builder is dynamic. Images, text, and everything else you see changes based on the user screen size, for example if you're on a phone then content like a header image gets resized to perfectly fit. It's a cool way for sites like Samewave to visually tell a story of a band or artist without compromising quality.
Samewave is determined to bring more attention to the DJ scene in Portland, OR. Listeners often visit sites like Samewave to catch up on their favourite DJ's, so having a page dedicated to their contributions and previous works helps immensely in furthering the station's goals.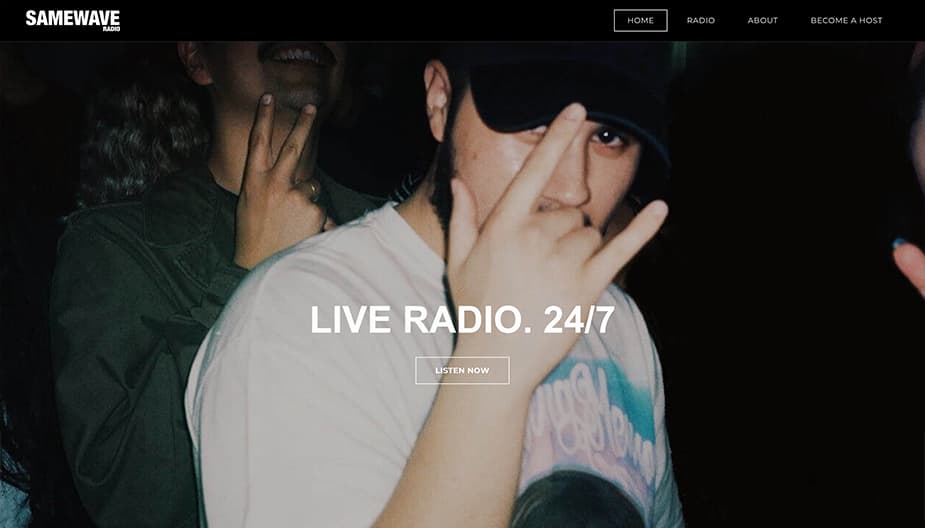 3. Australian Country Radio
In contrast to our previous entry, Australian Country Radio amps up the style without it impacting the substance. As the name suggests, this is an Australian station centered around country music.
ACR sets itself apart with a clean, attractive style which drips with confidence and professionalism. If you can convey these ideas with just a quick look, listeners are going to trust that your station is backed by quality.
Along with providing a great look, ACR's design makes navigating a dream, with everything you could want cleanly displayed at the top of each page, along with embedded web players so visitors to the site can jump straight into the broadcasts.
Add in news feeds and pages dedicated to the Australian country charts and song requests and you have a recipe for a wonderful site!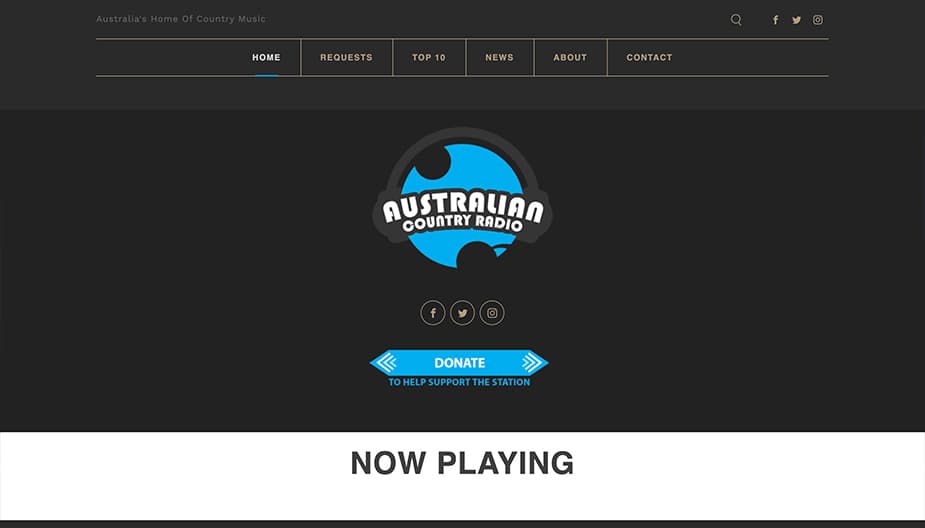 2. Beat Radio
More isn't always better. Take the cluttered website from Mix 106.3, there's quite a lot going on for you to make one decisive action. Frequent visitors might see this as useful with plenty of content to discover, but to newcomers it can look like a mess.
Beat Radio, have gone for a minimalist approach. Taking a step outside of the English speaking world, they're based in Indonesia and focus on a variety of genres and artists hailing from that region. Because of this, the website will require Google translate, but if Chrome is your preferred browser then you shouldn't have issues.
With only 4 pages, Beat keeps it only to the essentials, broadcasts, news and contact. That may sound slim, but if you have presentation as good as Beat Radio, then visitors won't care. With a slightly retro, sheek look, Beat Radio immediately draws the eye and captures your attention. It just goes to show that sometimes it's best to strip back everything unnecessary to really stand out.
1. Radio Tulum
Taking the lessons we've learned from the previous sites, Radio Tulum brings it all together with a simple layout that provides a wealth of content with minimalistic yet gorgeous presentation. Being based in a beachside Mexican hotel, it distills that laid back, easy-going feel into every aspect of its design.
What's impressive about Radio Tulum is that despite it's incredible looks, it never gets in the way of it's content, with web players on the homepage, info on shows with accompanying videos and contact info, it crams in everything that made the other stations and makes it look easy.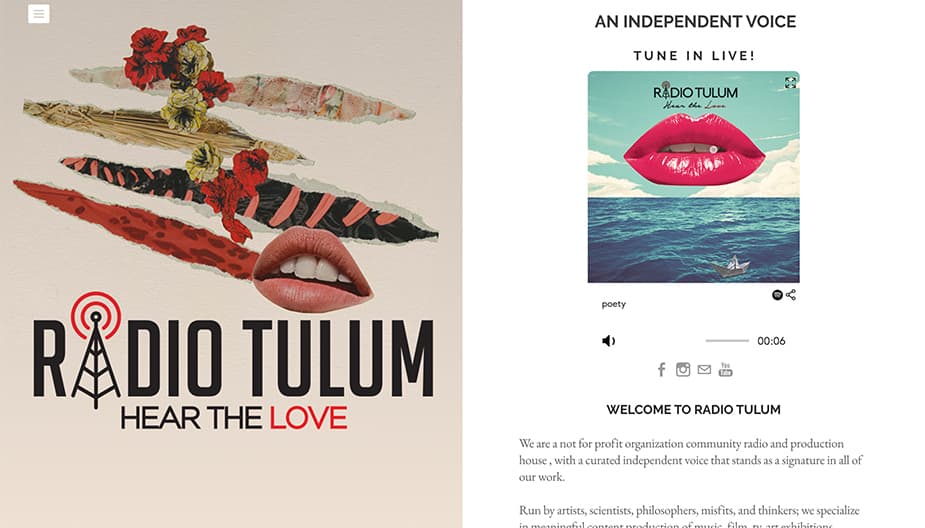 Build Your Own Website Today
These are just some of the best radio websites we've come across so far, but each one is different and worth looking into for inspiration for your own site. Using the Radio.co Website Builder you can easily create your own radio station site in no time. Build stunning web pages with no fuss and no technical headaches as we show you below.
View your station across any device, regardless if that's on a computer, laptop, iPhone, or Android device. You don't need any technical knowledge as you can choose a theme to match the look and feel of your radio station's brand.
Start building your website today by heading to your Radio.co Account -> Settings -> Billing -> Website Builder. Alternatively if you are not with Radio.co yet then you join today for free with a 7 day trial by clicking the button below and adding the Website Builder on checkout.