Easy Radio Website Hosting for Broadcasters
Radio website hosting is simple and reliable with Radio.co's new Website Builder Plus. Here's how you can set up your own radio station website.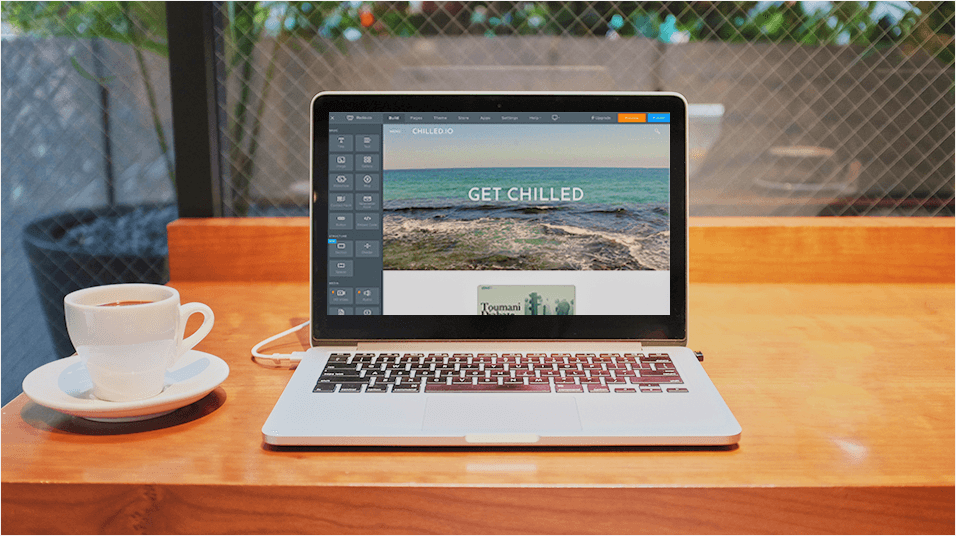 Setting up a website used to be complicated. Not anymore. With Radio.co's new Website Builder Plus it's easy to get started. Simply drag and drop videos, images, and other elements that make radio website hosting a breeze. Plus, there is something for everyone here. Website Builder Plus offers tools every professional radio broadcaster needs. Here is an overview of all the advanced features:
Video Backgrounds: Draw your visitors in with cool background video templates.
Website Statistics: How visitors found your site and what they are viewing.
Site Search: Find content more efficiently with a search bar.
Password Protected: Keep areas of your site secure and hidden away from public.
Membership: Setup a members area for premium content.
HD Video: Upload high quality video to engage with visitors.
Online Store: Turn your station into a business by selling merchandise.
Apps: Recommended features you can add to your site.
Want to build your own site today? Head to the end of this article to find out how you can host and manage your website with Radio.co.
Video Backgrounds

Draw visitors in by creating engaging pages with video backgrounds. The first thing visitors see on your website is the header, so add a looped video or animations to make your site dynamic.
Add full-width video backgrounds to your header. Select your header and Edit Background, then Change Video.
Choose from a gallery of videos or select your own.
Website Statistics
Learn more about your visitors with advanced website statistics. Understand which pages are most popular, how people find your site, and which sites refer you traffic. Access your site stats when you log in here and select Stats.
Stats are from the last 30 days. You start to get an idea of which parts of your site are doing well. Measuring site traffic like this is a good opportunity to refine pages that work and alter those that do not.
You can see how visitors got to your website using keyword search terms. For example, searching for "best radio microphones" on Google brings up a Radio.co article about the Best Microphones for Online Radio. Likewise, visitors might find your website by searching for your station's name or content you have published. Such as "10 best rock radio anthems" or "listen live my rock radio station". This is a really handy tool to see which keywords are working that bring in traffic.
Site Search
Not being able to find what you want can be frustrating. Visitors will not stick around for long, but a navigation can fix this. Quickly and easily find relevant and useful info on your site by just searching for it.
Just drag it into the header of your website so it's easy for visitors to spot. If you do not want a particular page to show up, for example, a sales or promo page, then you can hide it. Go into Page Settings and click "Hide this page from search engine" to stop it from showing.
Password Protected Pages
Enable password protection to keep specific areas of your website hidden from view. Only those with the password are able to gain access. This is useful for pages that are under construction or keep sensitive content hidden from public view.
Set the password in Settings > General > Site Password.
Change which pages are password protected on each page. Select Pages > Visibility > Site Password.
Website Membership
Build a membership website for your audience. Make your listeners feel special and give them access to exclusive content that is not available elsewhere. For example, you might have a special guest on your show discussing radio growth tips. Listeners can access additional content in your membership area, like 5 tips to growing your audience.
You can add members, manage them in groups, and control which pages they have access to. Add up to 100 members in your Settings > Members area, then Add Member.
Invited members get an email to confirm subscription.
Following the link lets them set their own password.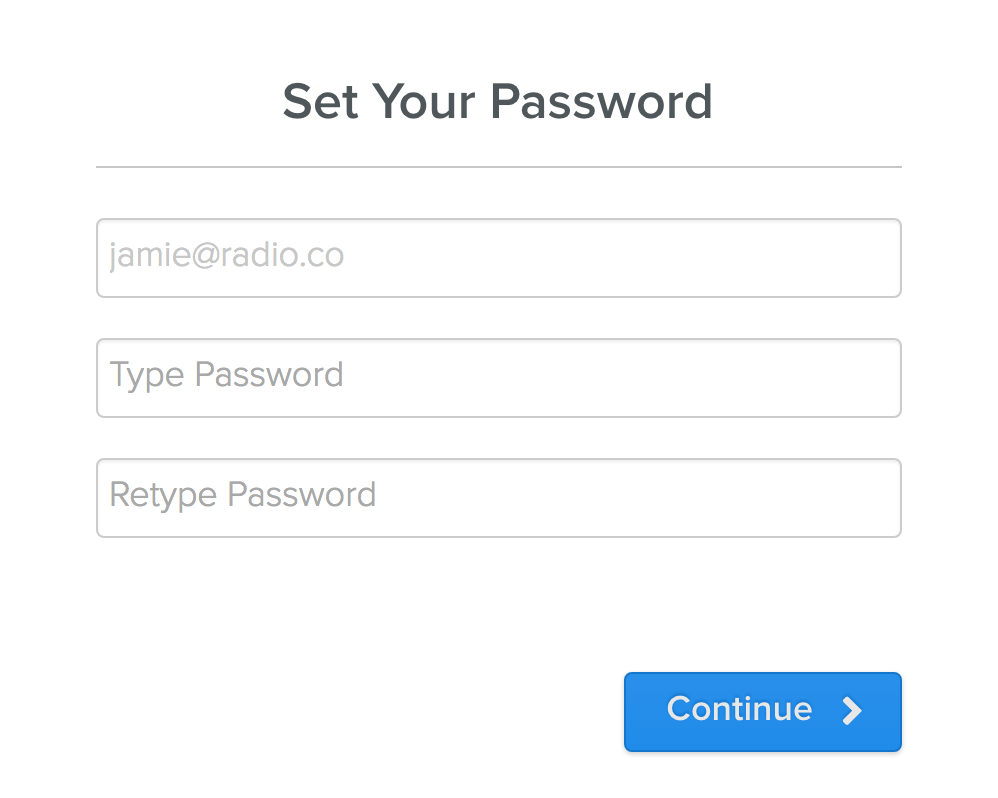 Signed up members can be added into groups with access to specific areas. For example, you can set groups that have paid subscriptions with access to special content like exclusive interviews with guests or training material. Add a group in your Members area and select Add Group.
Select the members you want to join the group.
Set access permission to specific pages. Head to a page and select Visibility > Members or Groups > then choose the groups you want to add.
You can also give access to select members in here as well.
Upload HD Video
Video is an essential part of any website. In 2017 it accounts for 74% of all online traffic. Popular radio stations like BBC Radio 1 use video as a tool to engage with listeners, you should too. It's a way to share your content in a different way. For example, showcase the best of your station in a short trailer or show off something fun going on in your studio, like a special guest interview.
Upload and display your videos with stunning clarity with an HD video player. The HTML5 players ensure smooth viewing on web, mobile, and iPad. In Build, just drag in the HD Video widget and upload videos from your computer.
Modify the settings to fit your page, but be sure to check either Auto or HD for Size so it's in high definition.
Online Store
Sell your own branded merchandise and turn your website into an online store. Sell physical products like t-shirts, jumpers, or software like online music. It's a good way to get your brand out there whilst making a profit.
The shopping cart integrates directly within your site and theme, providing a seamless checkout experience that works everywhere on desktop, mobile, and tablets. Customers check out on your domain, instead of checkout.weebly.com, so they know they are in safe hands.
Sell up to 25 different types of products. In your radio website hosting builder, choose Store and setup your shop.
Add Products like your station's merchandise.
Update the product's info, add in images, and set the price.
Once live, your merch will be available to purchase on your site.
Best Apps for Your Website
The cool thing about Weebly is its back catalogue of apps. You can add site tools and features to enhance your website. Here are some of the best we think every radio station website should have.
Welcome Bar
There is no point in trying to drive traffic to your website if you are not gathering emails. Email captures like Welcome Bar allow you to easily prompt visitors to join your mailing list.
This allows you to keep an open connection with listeners and stay in touch. For example, you can send out updates about special guests, new merchandise, or send a friendly reminder about upcoming shows.
Comments Plus +
Start a conversation on your website. Interact with visitors or let them debate it out. Encourage listeners to chat on your site. Discuss topics around your station, new music, or get some fresh ideas for your shows.
Create a thriving community. Interact with visitors in real-time on desktop or mobile. Listeners can comment, share, and rate other people's comments whilst on the move tuned in through iPhone or Android.
Countdown
Keep your visitors excited about what's coming next. It's great for announcing upcoming shows or special guest appearances.
Research shows that a good number of people impulse buy. Create a sense of urgency to purchase products on your store with a discount code or flash sale.
Notification Box
Use notifications to engage with your listeners. People are more likely to respond to notifications. If you have an upcoming show or competition you want people to know about then notifications are a good way of doing this.
Customise boxes, for example, add your logo, colours, and different styles to fit your station's brand.
PayPal Button
Accept payments securely with a PayPal button. Get donations, sell products, setup recurring membership fees, and apply discount codes.
Give visitors confidence with a user-friendly secure checkout that supports 25+ currencies.
Multilanguage
Broadcasting all over the world? Make your site multilingual. Enable language selection by name or country flags so content automatically translates.
Add different footers for each language to tailor your visitor's experience, for example, link to relevant pages that are customised for that language.
Pure Chat
Take requests via chat widget. Add an instant messaging box to your site so visitors can chat with you. Take song requests during shows and chat with listeners in real-time, similar to live call-ins.
Generate more leads and drive sales for your online store. Answer questions about your station and upsell products.
How to Get Radio Website Hosting
If you are already with Radio.co then you can add the Website Builder Plus in your account. Login to studio.radio.co, go to Settings > Billing > Website Builder Plus.
Your login details and info on how to get started will be sent to you via email. Follow the instructions to get your website up and running. Alternatively, if you are not with Radio.co yet, then you can setup your station and radio website hosting together on check out.
Choose your plan and select the Website Builder Plus add-on on checkout when starting your 7-day free trial. Click the button below to get started today.