How to Set Up Your Radio Station With Patreon
Listeners are supporting their favourite broadcasters through Patreon. Set up your radio station's Patreon page today and let your fanbase financially back the shows they love.
Nearly 10 years old, Patreon is now a popular way content creators are financially supported. Here's the low-down on what Patreon is, how it can work your radio station and how to set it up.
What Is Patreon?
Patreon is a membership platform that makes it easy for creators to get paid.
Patreon connects content creators with fans. It lets creators set up subscription packages for their content so fans can financially support it. Subscriptions can be either monthly - where fans give a set amount each month - or per new bit of content.
Who Uses Patreon?
Patreon is used by all sorts of content creators and their fans. Those using the Patreon include artists, musicians, software developers, radio stations and podcasters. And that includes some well-known Radio.co clients, like Shaun Keaveny and Iain Lee.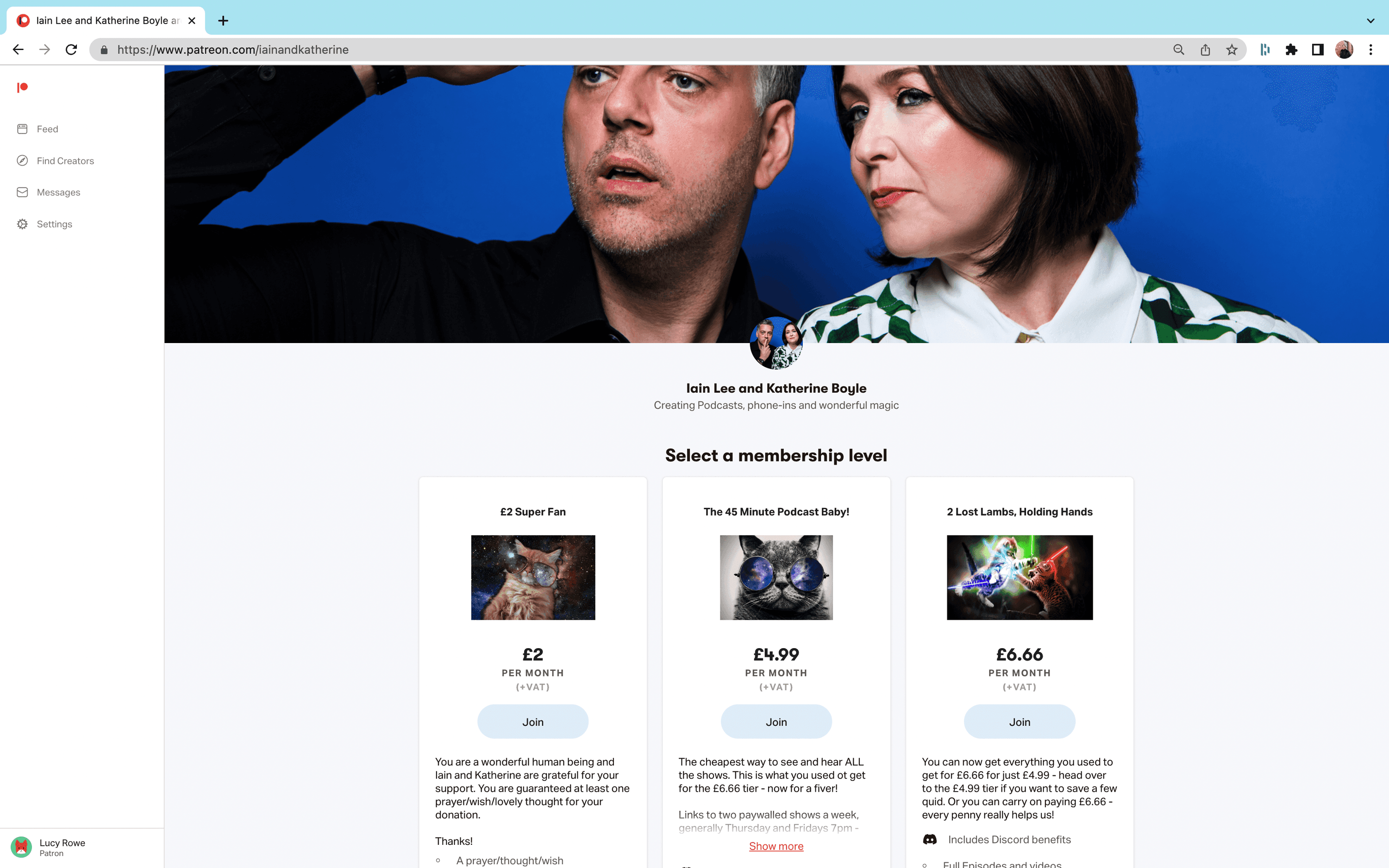 Patreon has lots of useful integrations with other content websites like Vimeo and Wordpress, but to use the platform you still have to launch a page on the Patreon site.
How Much Patreon Costs
Patreon charges a % of what you earn on the platform, as well as transaction fees. This depends on what country you are in and what plan you've signed up for.
Patreon only charges you based on what you've earned on the platform, so you won't be charged anything until then.
Typically, as well as transation fees, the Lite plan takes 5%, the Pro package takes 8% and the Experience package takes 12%

Here's a look at what each plan includes:
How Patreon Works With Radio Stations

Patreon lets your listeners financially support your radio station through memberships. It's pretty flexible in how you use it. So much so it has 6 business models for memberships. Some memberships offer exclusive content in exchange for a monthly fee. Other memberships keep all content accessible, but let fans pay what they like to support it.
The radio station, Melodic Distraction, uses Patreon like a crowdfunding service. All their content is free to access, but listeners can give a sum towards running costs.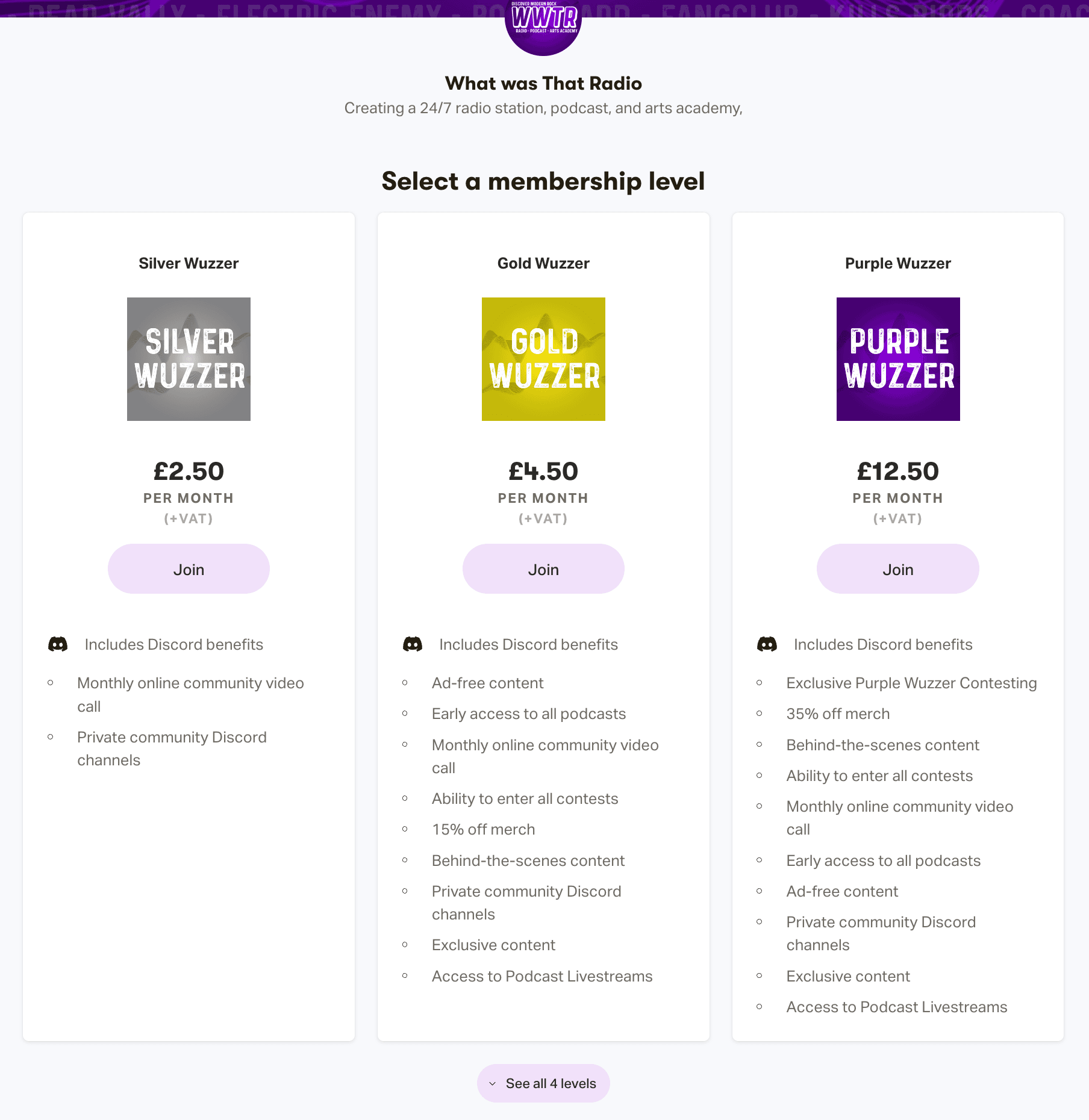 What Was That Radio, uses Patreon a bit differently. They have exclusive content. To access it, listeners have to subscribe to a higher tier in their memberships. They also bundle in other perks with their higher tier memberships. These include radio & podcast coaching and merch discounts.
Patreon's 6 business models for memberships
To give you an idea of how you can use Patreon, they have 6 business models which we breakdown below. Some creators select one model, but many opt for a combination of several. We think the first 3 in this list are best suited for radio stations. But that doesn't mean the others are off-limits. See what's best for you:
Gated Content Model: Some of your content is sectioned off - or gated - for Patreons only. This might be bonus content. Which is like your usual content only an extra bit. Or it might be premium content. Which is a higher quality than your usual content.

Example: Your standard radio show has a 10 min interview with a guest. But you also produce a deep-dive interview of 30 minutes - this is available as premium content. You make this deep-dive interview only available to Patreons on a particular tier.


Fan Relationship Model: Patreons get more engagement with you than non-Patreons. All because of their support. The higher their membership tier, the more engagement they get.

Example: At the first and simple level you may shout-out Patreons on your radio show. For a higher tier, you may provide Patreons with special merch and give them access to a discord channel.


Pay-What-You-Can Model: This model does what it says on the tin. No matter what tier membership your Patreons have, they all have the same access to your content. So a Patreon paying £5 per month will have the same access as the Patreon paying £50 per month.

Example: Your radio station operates as normal. Your shows and podcasts go out to the same places as usual. But loyal fans can support you via your Patreon page.


Service/Product Model: In this model a particular service or product is offered in exchange for monthly payments.

Example: You may produce radio shows/other audio content for others in exchange for a monthly fee.


Community Model: One person acts as a curator and moderator for a group of people interested in the same thing. Patreons pay for access to the community and can learn from others. But the presence of the curator/moderator means it's less of a free for all.

Example: You are an experienced broadcaster wanting a community of like-minded people. You curate a space for others to share their experience, advice and expertise.


Educational Model: In this model, Patreons pay for access to learning resources. If you opt for this model, you can provide paid-for-educational content. Think online courses, lessons, tutorials.

Example: You're an experienced broadcaster with skills to share. You use this model to provide tutorials on presenter skills, running a mixing desk or setting up hardware.
Setting Up Your Radio Station With Patreon
As mentioned, you have to launch a page on Patreon to use the platform.
So to set up your radio station page on Patreon, click the top right button 'Create on Patreon'.
Complete Your Patreon Page's Details
Patreon will take you through 5 steps to complete some basic details about your page. These include what currency you want your membership to be in and the category your content fits in.
Once you've gone through these steps, you can complete more details about your page. Patreon has 8 settings tabs and 1 Preview tab to see how your page looks. The settings tabs are: Basics, Merch, Getting Paid, Page Settings, Welcome Notes, Goals, Posts, Offers.

Under each tab on Patreon, you can set up your page to how you want it. This includes how frequently you'll be paid, what Merch you'll provide, your display name etc.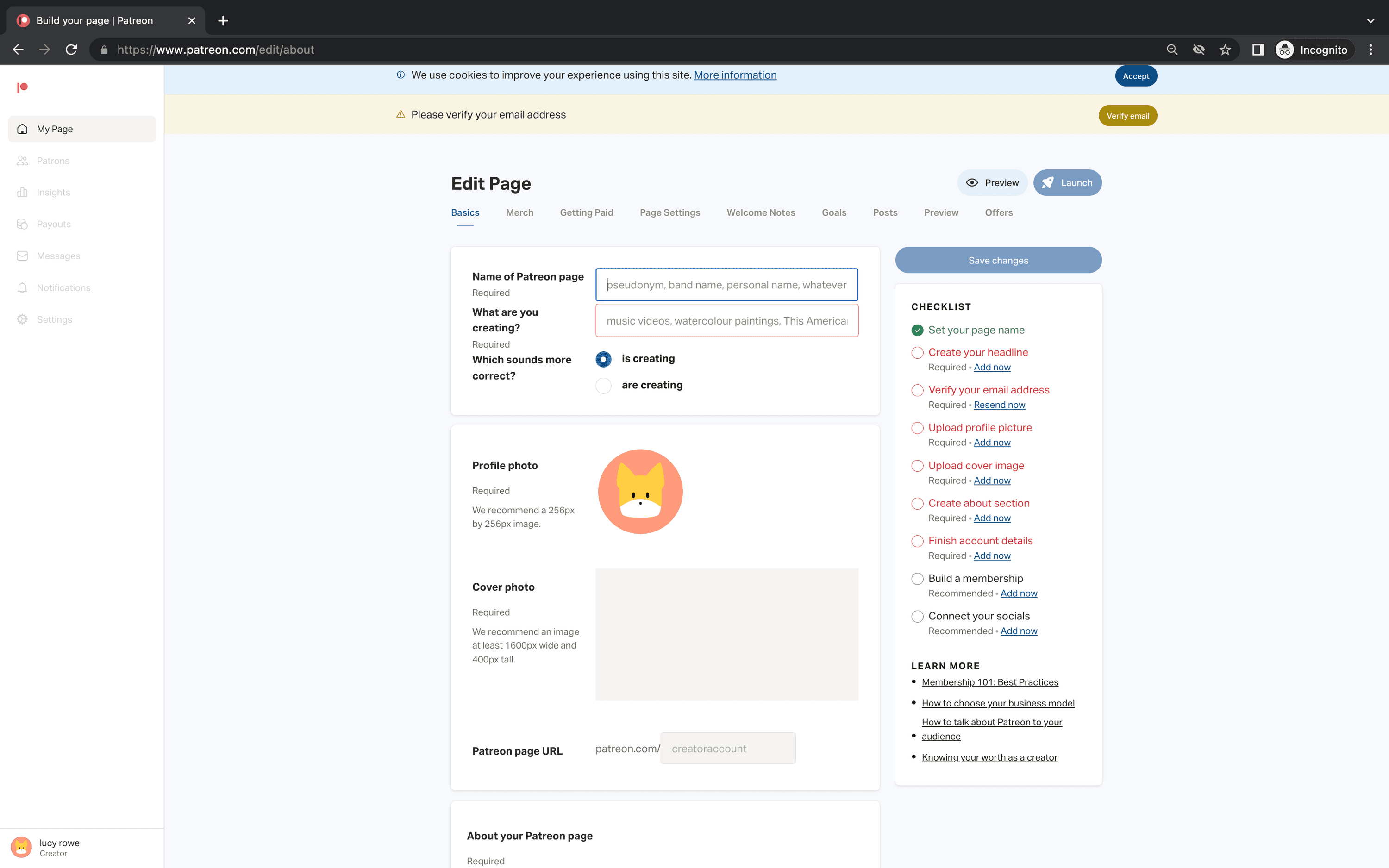 Add Some Content
Before launching, add some content to give prospective Patreons an idea of what you're about.

To do this, go to the Posts tab and click Make a post. Choose your post type from Text, Poll, Link, Image, Audio, Video or Livestream. Then, upload the media or add in the link and complete your post.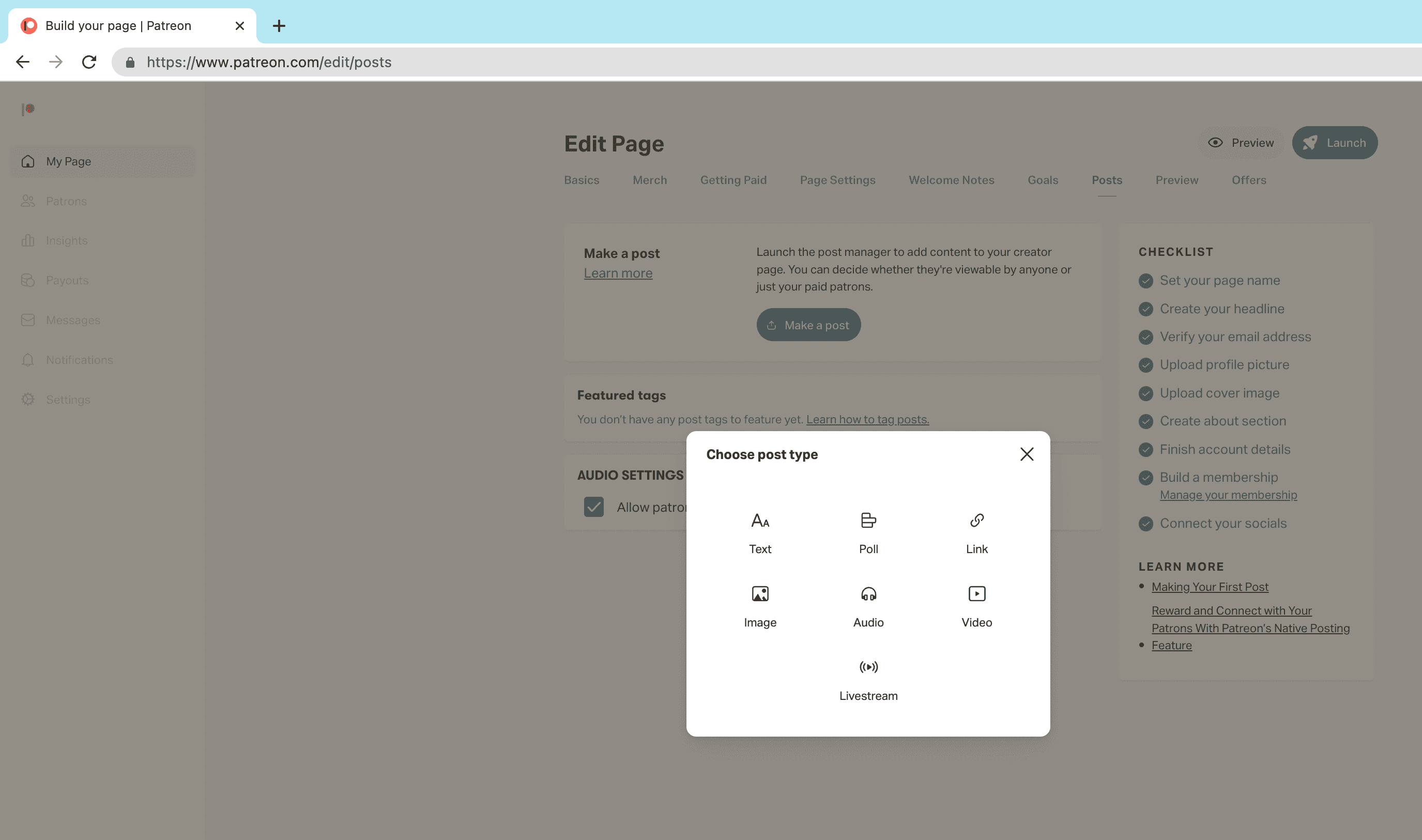 Stuck for ideas? Check out the video post the podcast, RedHanded, uses, or the text post that radio station, Ambient Flo, uses.
Build Membership
At some point, you're going to need do what you came to do and build your Patreon membership.
In the checklist, you can click 'build membership' to start creating tiers. These are like different levels for memberships to your content; the more the membership costs, the more benefits your Patreons receive.
You can either build your tiers from scratch, or use a starter kit.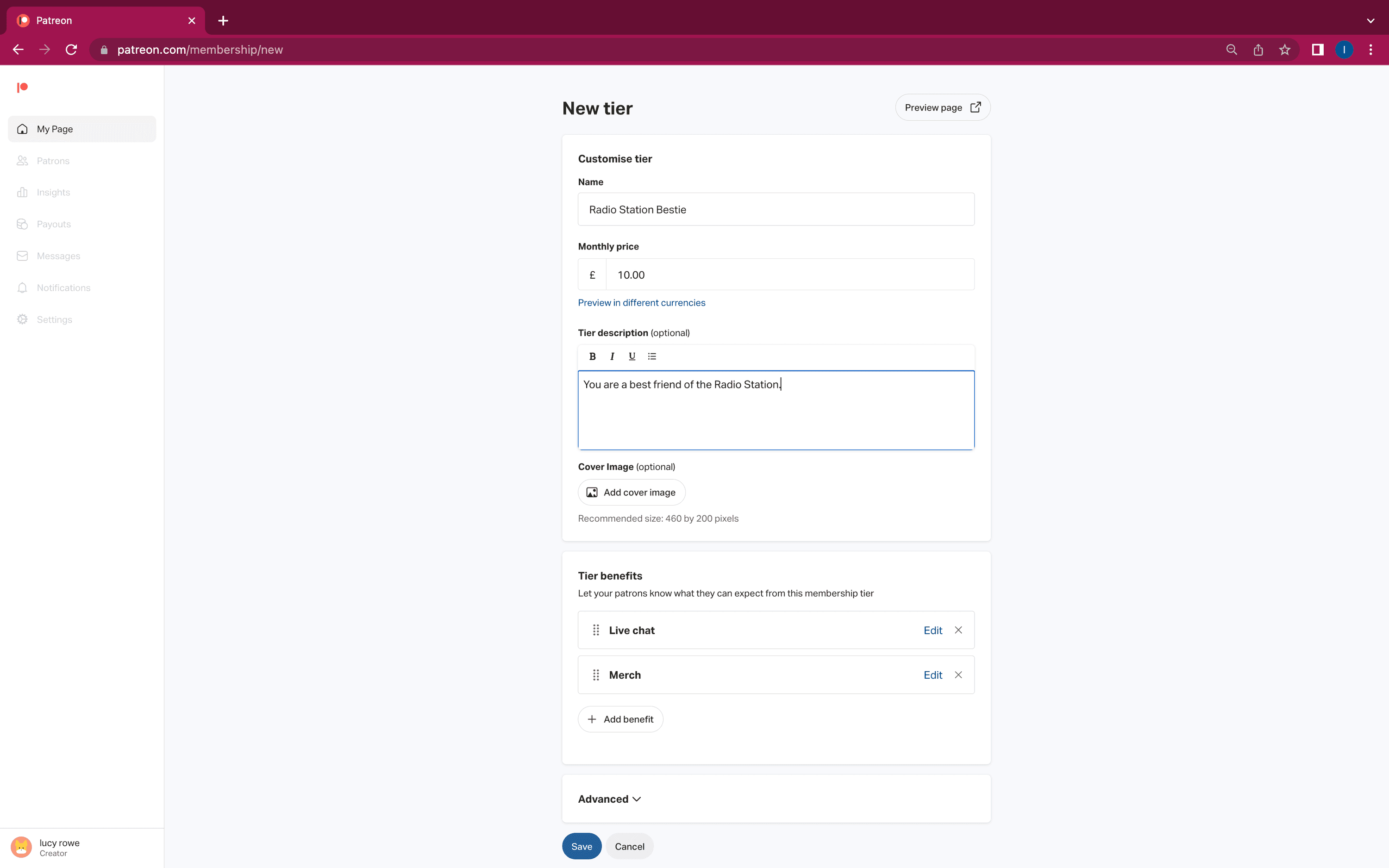 The tiers in the starter kits are also fully customisable. So if need some inspiration, they are good templates for you to customise.

Tick Off The Checklist
Patreon has a handy checklist on the righthand side. This includes both what is required and recommended to launch your page. You can only launch your page once you've checked off the essential requirements.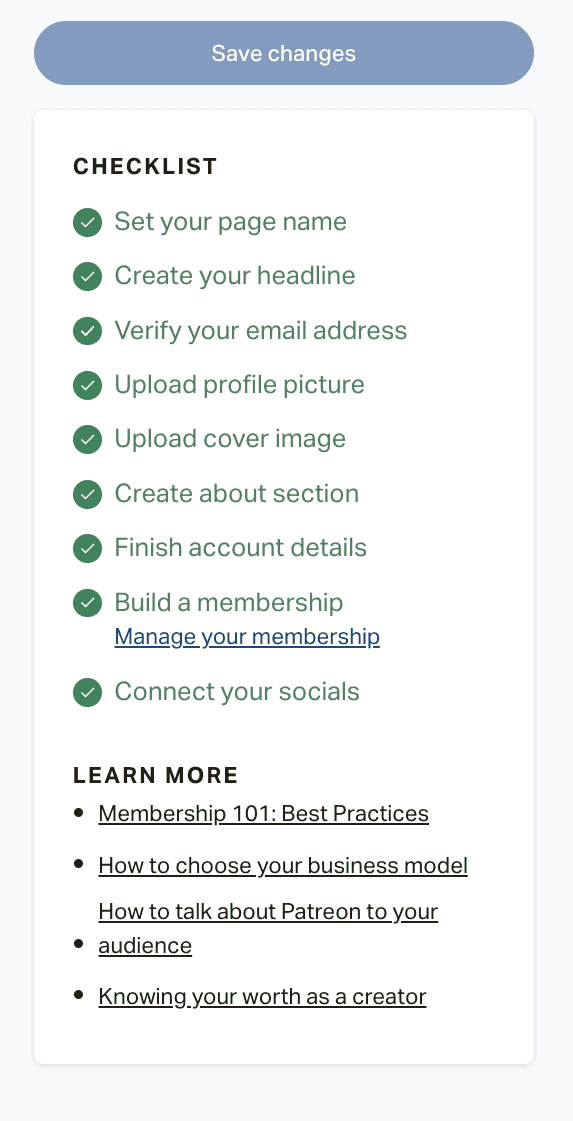 Preview
Before you launch your page and share it with the public, check how it looks using the Preview function.

Click the 'Get Preview Link' button in the bottom right corner of the page, under the Preview tab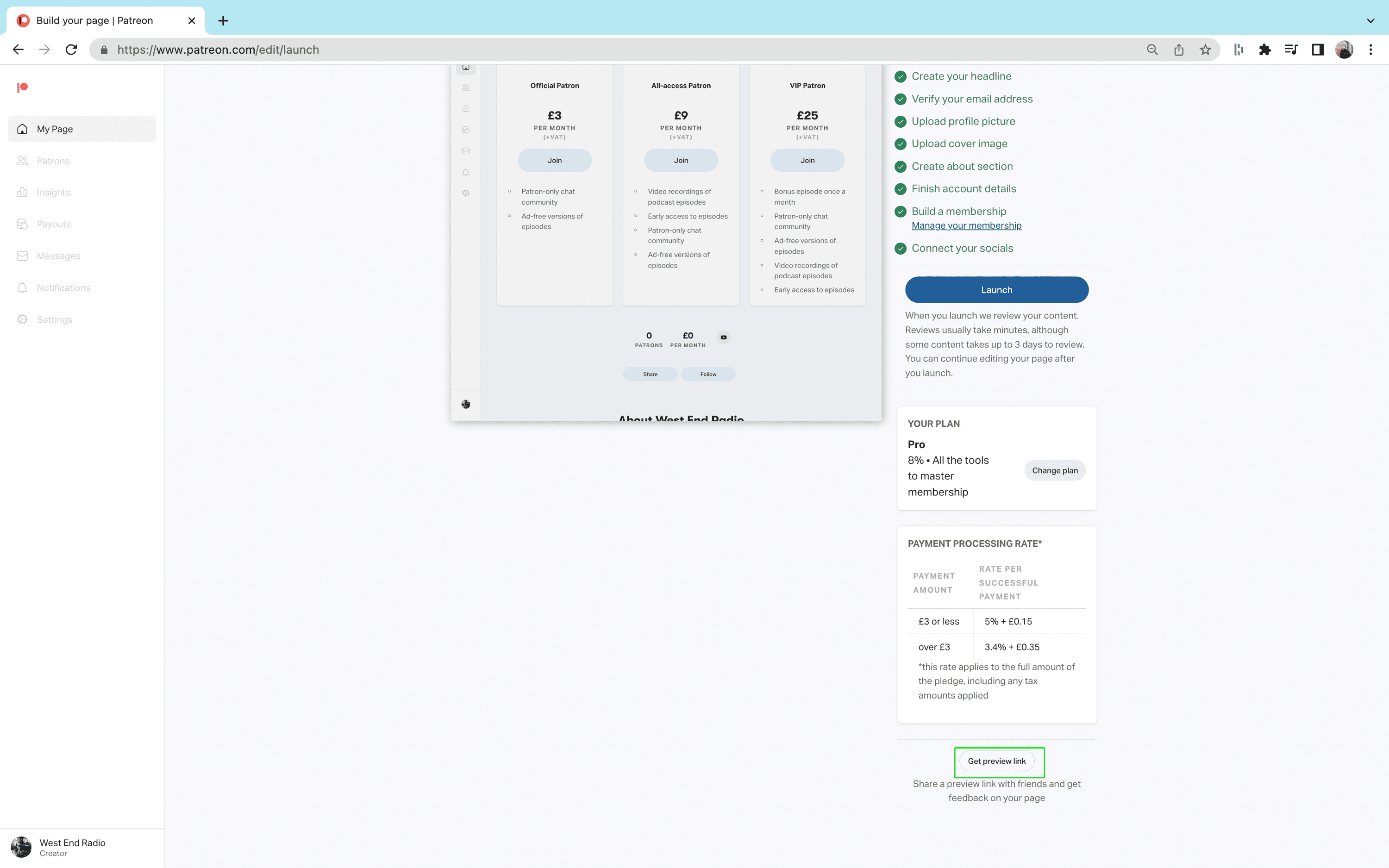 You can use this link to share your preview with other radio station staff and friends. It's always good to get a second opinion, and they might spot a mistake you've missed.
...And Finally Launch!

Once you're happy with your page and you've completed the checklist, hit the blue Launch button to go public.

After launching, let people know about your page by:

Create a Patreon promo (ie jingle) and automate it so it's played frequently on air
Connect Patreon to all social accounts and mention it in your posts
Have presenters mention it regularly on air