Radio Alty: How Radio United a Community Through Lockdown
Radio during COVID-19 kept communities connected. Here's the story of how Radio Alty brought the people of Altrincham together (with Radio.co).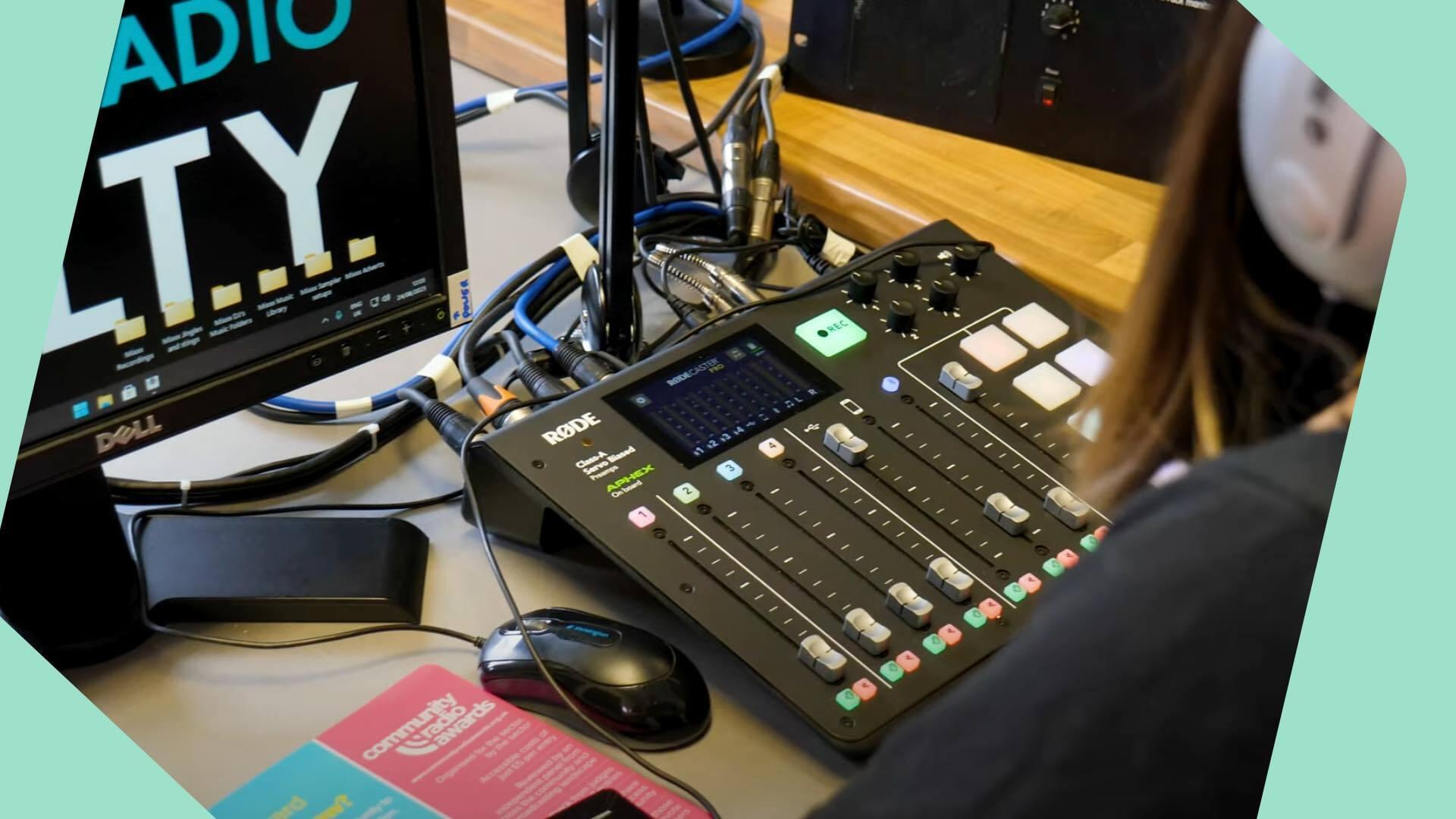 Lockdown was a difficult time for everyone. Not least for the diverse community of Altrincham in Greater Manchester. But to a dedicated team of six volunteers in 2020, this wouldn't stop a radio revolution. Radio Alty had a suspicion there were budding radio heads out there, wanting to give presenting a go. But who had never had the opportunity.

With those in mind, their mission became clear. To create a platform for locals to support the community creatively. All by championing local bands, community groups, charities, local businesses and more.
How Radio United a Community in Lockdown
Radio Alty was, indeed, a lockdown labour of love, though the foundations were in place prior to the pandemic. Setting up a station through Zoom presented challenges. But the crew took a leap of faith and launched Radio Alty in the height of lockdown instead of holding off.
Community is at the heart of Radio Alty.
3 years on, this risk has more than paid off. Radio Alty has gone from strength to strength. Since then, it's catapulted from a crew of 6 to a team of 25+ presenters, podcasters and poets. Talk about growth! Meet their ever-blossoming team below, and find out how the people of Altrincham didn't let coronavirus stop them from making magic, no sir.

Getting Radio Alty Online & On The Map
Radio Alty was indeed a project born from Zoom calls and a determined squad of radio aficionados. But how did they get the station off the ground, you ask? After all, setting up a radio station for a town of 50,000 people was no easy feat. Especially when the team couldn't even step outside of their homes.
We were going to get ourselves out there, we were going to give people the content that Altrincham deserved.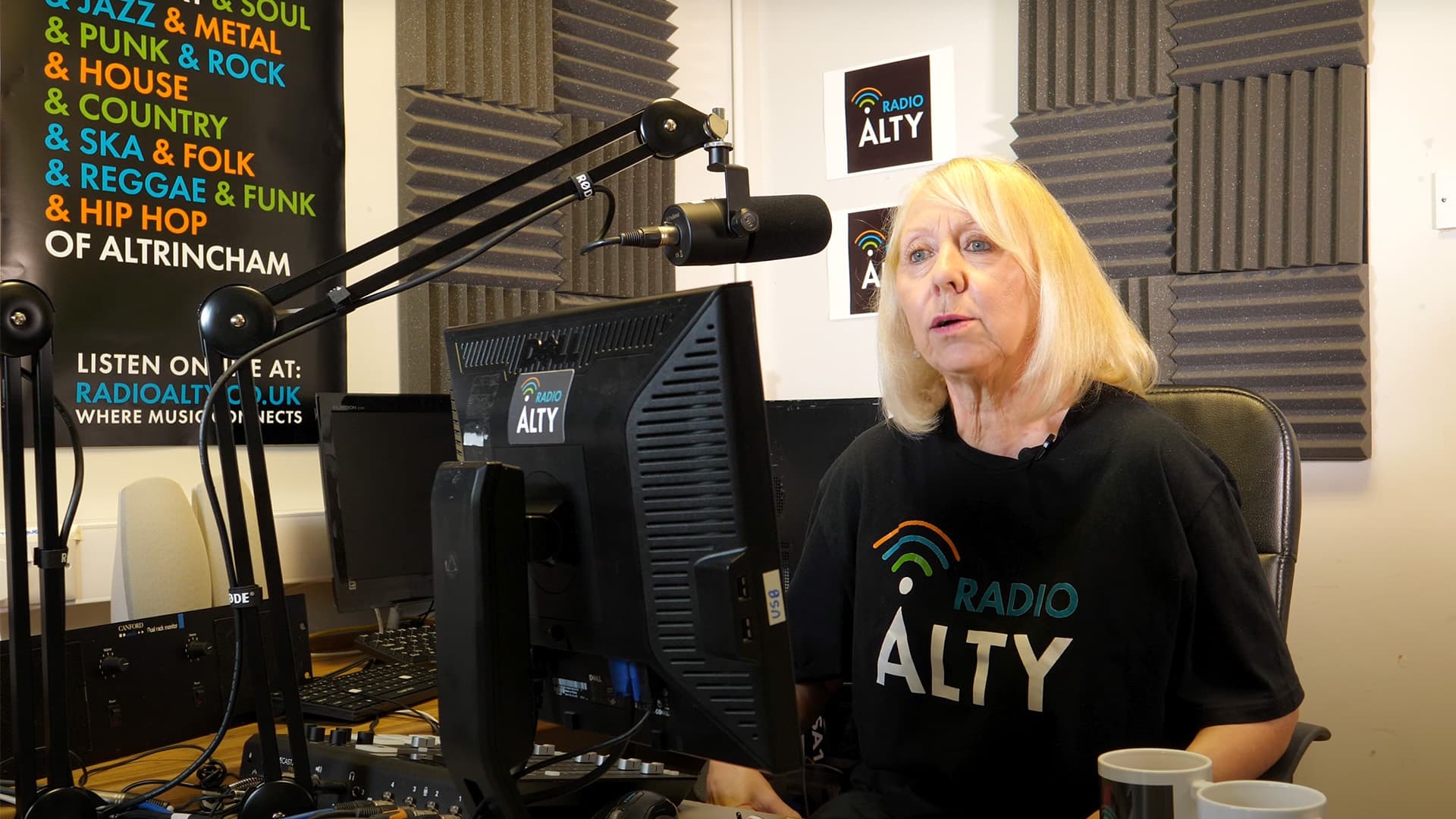 Well, Radio.co could offer them a helping hand with the technical stuff. Freeing up the presenters to create the quality radio they had dreamed of. And of course, that Altrincham deserved.
It's always been on my bucket-list to present a soul show, because I'm passionate about the music.
The super easy-to use interface meant choosing Radio.co was a no-brainer for the Radio Alty bunch. And within a fortnight they were up and running.

Radio.co was a brilliant launchpad for us - what Radio.co offered us was exactly what we needed to start broadcasting.
While Radio.co covered the technical side, Radio Alty covered the presenting and creating top-notch shows. And listeners loved it.
Home Studio Heroes

Nestled in the heart of the Altrincham Garrick Playhouse is Radio Alty HQ. But they also operate from a few of the volunteer's home studios in Altrincham, too. One such volunteer is Peter Scotson, host of the marvellously madcap Pastries In The Morning show.
Peter gave us an all-access VIP behind-the-scenes tour of his private home studio in Altrincham. And you can have a sneak peek, too. Here Peter interviews his guests in the garage and records his show. Armed with plenty of DIY soundproofing advice (towels, people, towels!) Peter's tour should inspire anyone wanting to set up a home studio and not knowing where to start.

Radio Alty: First Altrincham, Next The World
Radio Alty was intended to be a radio station that was made by the local community, for the local community. But in their 3 years of being up and running, Radio Alty have gone global. Radio.co has helped Radio Alty rack up the international listeners they deserve by making the station as accessible as possible - on their apps, smart speakers, Streema and more. With such a range of different shows and presenters from all walks of life, there truly is something for everyone on Radio Alty. It's no surprise they're making waves around the world.
Even starting with limited funds and resources the local station went from strength to strength by using innovative methods of growth. Sponsorship, adding super varied shows to their schedule and letting Radio.co handle the heavy lifting have all allowed the station to thrive.

Conclusion
To unite a community through lockdown with radio, you've got to be dedicated, and Radio Alty more than rose to the challenge. Radio Alty have proven that the strength of a community and collective passion for a project is the real soul of an online radio station. They've survived 3 lockdowns and set up a successful station in spite of all of the logistic obstacles, and for that Radio Alty, we salute you.
Who knows what's next for Radio Alty and their reach, but at the rate they're going, we're expecting big things.